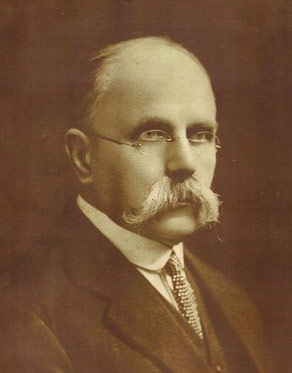 Rutland Remembers owes a deep debt of gratitude to George Phillips, author of Rutland and The Great War published in 1920 (republished 2014, see here). It was Phillips who collected biographies and photographs of 490 soldiers which have provided the basis of this website. We are grateful to his grandson, Patrick Coyne, who has allowed us to reproduce information from the book and supplied us with a picture of George.
The Commonwealth War Graves Commission website is essential to anyone researching soldiers of the First World War. It has also provided us with information about the cemeteries and memorials around the world which we have used in the Locations section, as well as some photographs of the cemeteries themselves.
Michael Doyle has spent more than thirty years researching the names on war memorials across Leicestershire and Rutland. His five volume work, Their Name Liveth For Evermore, has proved invaluable to us and we are grateful to him for allowing us the benefit of his labours.
Michael Allbrook has done a similar job with boys from Oakham School and much of our information about them comes from him and his website Theygavetheirtoday.com. Oakham School's honorary historian, Brian Needham, has provided much additional information as well as photographs. Our thanks as well go to Jon Wills, the school Archivist.
Keith Shelvey has been way ahead of us in creating an internet database of soldiers whose names appear on local war memorials and in doing so has helped us solve some conundrums.
Jeanette Holdstock, a former information officer at Rutland County Council, helped us locate various graves in Oakham cemetery.
We are grateful to the former Lord Lieutenant of Rutland Dr Laurence Howard and the Rutland Committee for the Commemoration of World War One, for four years chaired by Colonel Robert Boyle DL, for supporting this project. Mike Frisby, a member of the committee representing Langham Village History Group has kindly allowed us the benefit of his research as well as better quality photographs of Langham's soldiers. Thanks are due, too, to Belton History Society for use of material from Belton at War published by the Society. And to David and Paul Bland for allowing us to use material they have published in Greetham and the Great War. Dr Jim Beach, Senior Lecturer in Twentieth Century History at the University of Northampton and a former member of the Rutland Committee, has provided invaluable guidance and advice.
We have also had the enthusiastic support of Rutland County Council and the Head of Culture and Registration, Robert Clayton.
Aidan and Carol Haylock, and Matt Steele, our designers at 23ccc, have been part of Rutland Remembers from the start and have transformed our ideas - as well as many of their own - into reality. Bob Pickwoad has digitally enhanced the orginal photographs from Rutland and the Great War to give them greater clarity, as well as supplying hundreds of new pictures to illustrate the site. Our thanks as well to John Stokes for supplying hundreds more photographs of cemeteries and individual graves around the Western Front and beyond and for being a hugely valued friend of the site. James and Claire Buchanan are responsible for the text and additional research..
Most of all, our special thanks are due to the Heritage Lottery Fund whose generous funding has made this website possible.
Images courtesy of IWM WW1 Centenary Partnership Programme and the Commonwealth War Graves Commission